Beskrivelse
The APCO Thrust is one of the longest standing wings in APCOs range. Thrust is a beginner / intermediate classic (non-reflex) wing, which is simple to use, safe and easy to progress with. It is universally liked and has withstood the test of time throughout the evolution of paramotor wings.
The Thrust V continues the legacy of the Thrust, but is a completely new wing – updated with latest technology available!
FAR ® – Flow Aligned Ribs – Thrust V is the first model to incorporate this feature ! It is the correct way to position the ribs of the glider – simply explained the tips will generate more lift!  This additional lift improves performance and more importantly, the safety and stability of the wing.
APP ® – shark nose profile allows higher maximum speed while retaining a more constant internal pressure – the canopy is rigid, boosting confidence to novice pilots.
Butt holes 2 – as the name suggests, these holes will easily allow release of any sand or debris collected inside the canopy.
Launch – SRS® aided risers will bring the wing overhead quickly and effortlessly with no overshooting, making forward launch second nature for any pilot. Redesigned, simplified riser, with 2 different attachment point options for any harness motor combination
Take Off and Landing – As easy as it gets, contrary to reflex profiles, the Thrust has a high lift, classic profile. This allows the wing to take off and land at the slowest speeds possible. The risers are cluster free, simple to operate and understand. This wing will be perfect for schooling as there is no simpler or quicker way to get airborne.
Handling – reconfigured – the wing is now more agile, quicker to respond with less brake pressure. The FAR® and Shark Nose allowed us to improve the Thrust V for sharper handling without undermining any other parameter.
Speed – the maximum speed of Thrust V is increased to up to 55+ [km/h] – outstandingly fast for this class!
This is due to the APP® shark nose profile which allows higher speeds without compromising safety.
Construction – built to last. APCO's legendary double siliconised cloth together with other lighter types of material will guarantee more hours of enjoyment than any other wing.
Lines – all sheathed for maximum protection in all conditions.
Paragliding – leave the trimmers closed and the Thrust V becomes a well rounded paragliding wing to enjoy both disciplines.
Schools opting for a non-reflex wing for students, will find Thrust V to be the perfect wing, making it easier for both the pilot and the teaching process.
TAKE OFF
The Thrust V is factory trained to have a smooth inflation with no tendency to overshoot or fall back (even if the A's are released too soon – thanks to the SRS).  The Thrust V has a high lift profile which helps to give it its low lift-off speed.
LANDING
Low approach speed combined with long brake range, gives a highly efficient and safe landing flare.
THERMALLING
Low min sink, coordinated flat turns with no tendency to dive into the turn.
PERFORMANCE
The high lift capacity profile gives a lower power requirement  / RPM throughout the entire speed range.
PILOT FEEDBACK
«I was really pleasantly surprised by the easy inflation/handling of that wing, and it's a pure joy to fly… I have flown several brands of gliders earlier, including Gin, Swing/Powerplay, Skywalk, Ozone, etc, but this one sure beats them all, and I will probably end up keeping it myself!" – Anders Persson
CONSTRUCTION
According to Apco's legendary tradition for durability – the construction of the wing is bullet proof! Extremely durable cloth combined with proven construction, designed to withstand students abuse for as long as necessary.
THRUST V
The Thrust V it the go to wing for beginner to intermediate pilots, and also doubles as a free flying wing, making it a very versatile choice.
Features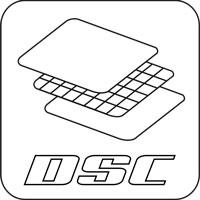 DSC – Double Siliconized Cloth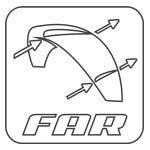 FAR
Flow Aligned Ribs (FAR – pat. pending)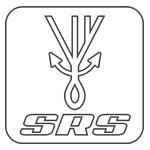 SRS
Stall Recovery System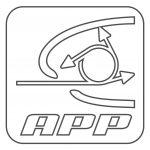 APP
Automatic Pressurising Profile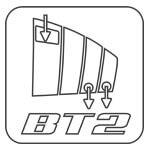 BT2
Butt Hole 2 – Auto debris clearing from the wing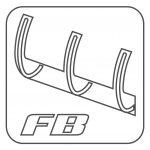 L/E FLEXON battens®
A system for improved launch, lighter weight, prolonged lifespan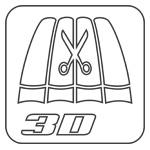 3D Cut
Additional 3D cut on the leading edge for clean construction and improved profile definition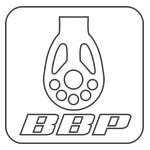 BBP
Air Extreme Ball bearing Pulleys ®
Laser Cut
Latest laser cutting technology.
NBM
Integral built-in neodymium brake magnets.